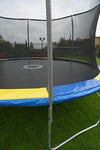 12ft Trampoline with Steel Enclosure and Flash Litezone
STOCK AVAILABLE NOW!
Add a flash of color to your backyard! The 12 Ft Trampoline (Blue/Yellow) with Flash Litezone and Pro Enclosure combines both fun and safety with the Flash Litezone center to help users stay near the jump mat center while having fun. Give it a bounce, and watch the colors change before your eyes.
If the attractive price and design do not sell you, the follow features will ensure demonstrate that you are getting the best trampoline trampoline at this price in the market:
Rust-resistant galvanized steel frame

UV-resistant netting and jump mat - tested for over 5000 hours!
Curved poles to assist children in avoiding contact
Printed jump mat center
Padded spring cover for additional safety
Flash Litezone for additional play value and encourage users to jump in the center of the mat